Social Media Reputation Management
Social media is a key player to your online reputation management. Good things and bad things are posted everyday. Some get noticed and some get left behind. Extremely good things and controversially bad things get popular – and go viral. Social Media Reputation management is a fluid and critical platform of your online reputation management.
Social media has the ability to make good things even better and bad things even worse. It has the power to supersize information and share them to the world. It puts things in a micrscope and stretches the specimen to the size that the microscope sees. And if your brand is under its supersizing mercy because of 'something gone wrong' – your reputation will be greatly affected.
So here's a simple online reputation management guide to help you in your Social Media Reputation:
Inside the ring
This pertains to your reputation inside the social network. How you deal with news and events and happenings that will tarnish your company's reputation inside the social network's ring of influence will be discussed under this category.
Prevention
Creating and publishing great content
Coca Cola's 'Content 2020' video is an example of great content that helped boost their company's online branding
This increase in online branding will help drown out any other searches that are happening around in the social network for any other content connected to their brand – including derogatory ones.
Make sure your social account ranks in that social network's search engine
For example: Make sure your Facebook page is optimized to appear as top result in Facebook's search engine results when your brand is searched for. There are other 'hate pages' that you wouldn't want ranking above you. There are a lot of social network account optimization tips and strategies available out there.
Here's one by Kristi Hines: How to Optimize 7 Popular Social Media Profiles for SEO
And here's another one by your favorite SEO blogger: Google Plus Optimization
Clearance
A lot of things can happen inside the ring. Usually these things are sparked by a disgruntled employee or one of the representatives of your brand doing something stupid – and it is caught or leaked on photo, video, or news.
Truthfulness
If the bad news happened to pierce your prevention strategies, the first step to clearance is to verify the truthfulness of the content. If it is indeed from your company then the best thing you can do is to publish a public apology about it. If the apology is true, chances are, it will also be shared alongside the derogatory content. If the public apology is creative, chances are it will also go viral.
If the content happens to be untrue, you can publish a statement that the company has verified the truthfulness of the content and has concluded that it is misinformation. Again, publishing creative content about the verification of the derogatory content's truthfulness increases the virality of your innocence.
Any derogatory content published inside the ring gives you no control over it. Chances are, people may keep on sharing that content if it feeds their curiosity and popularity as curators of content. What you can do is create content alongside that derogatory content – and try to make it as viral.
Remember, in online reputation management – when you reach the clearance stage, it means you've already lost. Your prevention strategy is always key.
Outside the ring
Social media can still help influence your reputation outside the social network – particularly in the search engines.
Prevention
As mentioned in the first Online Reputation Management tutorial, social network accounts can help your Online reputation management prevention strategy. Getting into all the authoritative social networks, and establishing and optimizing your social network accounts can be a solid foundation for your online reputation outside the ring.
Search engines love real social network accounts. And they usually show up in the search engine results page. Just take a look at Oreo's example:
Facebook, Twitter and Youtube easily shows up in the top 10 search results. Protecting your top 10 results in the Search engine results page is very important – powerful social network accounts make it so much easier.
There are a lot of ways you can increase the authority and trust of your social network accounts – the best ones are to:
Link to them
Optimize them
Update them frequently by posting in them
Clearance – Contact all those who took your username and ask if they can stop posting bad reputation about you. Contact the social network about it. Build an account and make it rank higher. Brand accounts in Google SERP rarely come by if they are not genuine. That is why prevention is key.
Clearance in the SERP outside the ring deals a lot with SEO. If the derogatory content has pierced through your prevention strategy outside the ring (in the search engines), you can use your key social network accounts to outrank them. It's much like using your chess pieces to make strategic moves. Social network accounts are your best pieces in the search engine playing field. Knowing how to use these to your advantage in the search engines will make clearance a lot easier for you.
If there are other people who took hold of your brand username before you and are ranking higher in the search engines, contact the social network about it. Twitter does a good job at returning brand name accounts to the proper owners. Allianceinteractive does a great job of walking us through this.
Here are some options you have of regaining control of your brand on twitter:

–   Use the web form or email terms@twitter.com along with the following information:

Your existing username,  the username you want, along with an explanation your brand name being taken, detail if you are looking to start a new account or switch your account from your existing username to the new account name.

–   After 9months of inactivity, Twitter will generally release the account back to its proper owner.

Policy: Twitter is not currently releasing inactive user names. Unless your user name issue involves Terms of Service violations, you'll have to wait until all inactive user names are released. We're working on a better long term solution for this, and we should have more news soon.

–   Advise Twitter about abuse or misrepresentation, Twitter will shut down the account based on fraudulent activity.

Policy: If your user name request concerns impersonation, trademark infringement, copyright, or another Terms of Service violation, please submit a request to the Terms of Service group via the web form. Be sure to pick the right item from the drop down box for expedited help. Keep in mind that if there is no content and no intent to mislead, there is most likely no infringement.

–   Twitter has instituted Twitter Verified Account, read more about Twitter Verified Accounts at http://twitter.com/help/verified.
–   Post a complaint on Twitter's getstatisfaction.com/twitter website.
–   Secure legal counsel and have your counsel draft an action letter.

Big Brands know the value of using Twitter, take advantage of Twitters incredible growth and make sure to secure your brand name today.  Protect your brand (even if you have no intent of using Twitter) make sure to take your name and secure it to prevent someone from hijacking your brand.
Social Media Reputation Management is tricky. The only real way you can have a good chance of clearance is if your prevention strategy is solid.
Tips for Keeps: Grab your brand's most strategic and powerful social network accounts and optimize them as soon as you can.
Online Reputation Management: A Guide for Social Media Marketers
Wondering what people think about your business?
Interested in using social media to improve your online reputation?
Here's how to use these digital marketing channels to start building and managing a healthy online reputation for your business.
#1: Decide What You Want Your Online Reputation to Be
With ORM, the first step is to decide what you want your online reputation to be. Do you want to be perceived as an industry authority? To adopt the position as the market leader? Or be known for your responsiveness and excellent customer service?
#2: Assess Your Current Online Reputation
You can begin by determining what your actual reputation is. Ask friends, family, clients, business partners, and stakeholders what comes to mind when they hear your business's name. What do people already think about you? Does your digital presence match your reputation in your offline network? Listed below are five tools that will help you research and evaluate your digital reputation.
The Brand Grader
The Brand Grader (from Mention) provides an understanding of your brand's online presence for free. It will identify the most influential blogs and news websites that have published content featuring your business in the last 30 days and also show recent mentions from social sources. The tool also gives you a score that helps you identify strengths and weaknesses of your business's reputation.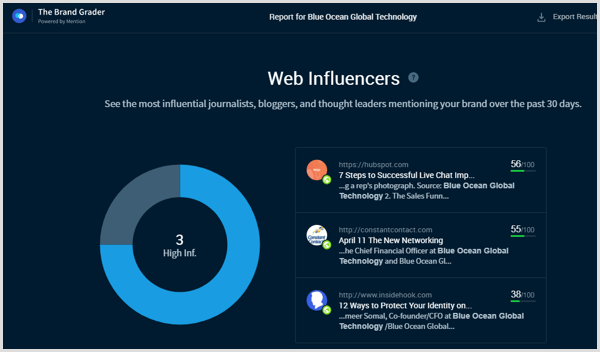 Go Fish Digital's Complaint Box
Go Fish Digital has designed a free tool that lets you browse more than 40 different complaint websites at once and provides you with a list of negative reviews. Although there's no guarantee of completeness, using the complaint box is a convenient way to get first impressions of any negative reviews or comments you've received online.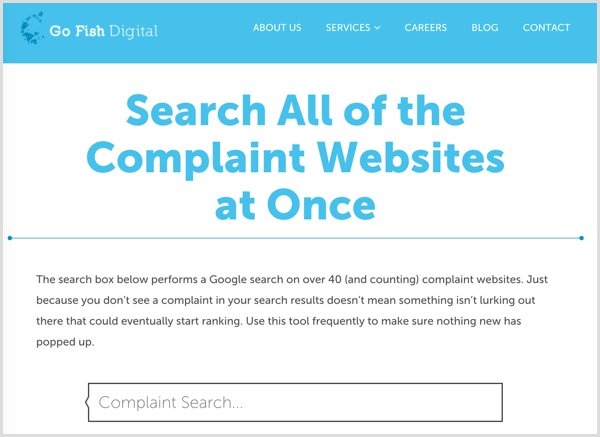 Mention
Mention is a platform that scans more than 1 billion sources from social media networks and forums to blogs and many other web properties. You can use it to track your brand, competitors, and customers by using different search criteria. Mention has plans starting at $25/$29 per month, but you can evaluate the tool during a free 14-day trial period.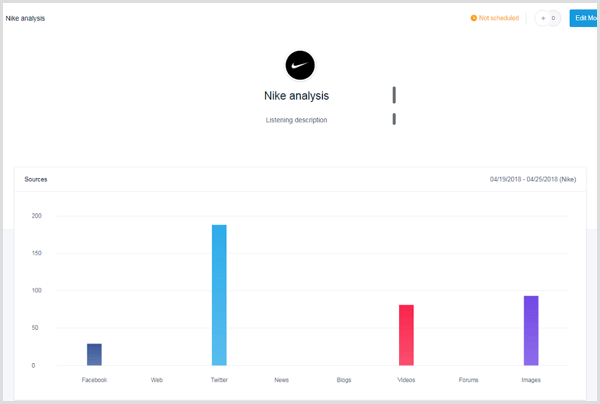 Google Alerts
With the help of Google Alerts, you can keep track of new content published about your business. In addition, you can monitor industry news and follow your competitors. This helps you identify new guest blogging and commenting opportunities.
To set up an alert, all you need to do is search for a certain keyword and decide how often you want to receive notifications about new content via email. You can also define content sources such as news websites, blogs, or videos, and choose a preferred language and geographic region.
What's great about Google Alerts is that it's free and includes all content currently indexed in Google, so you won't miss out on anything.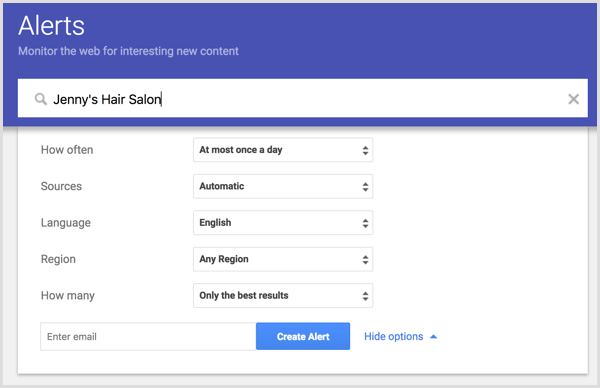 Talkwalker Alerts
Talkwalker Alerts calls itself a "Google Alerts alternative." With the free help of Talkwalker, you can monitor everything online regarding your brand and track your competitors' activities, recent events, and so on.
To set up an alert, you need to define a keyword; enter your email address; choose your target language, number, and types of results; and select how often you want to receive notifications (daily or weekly).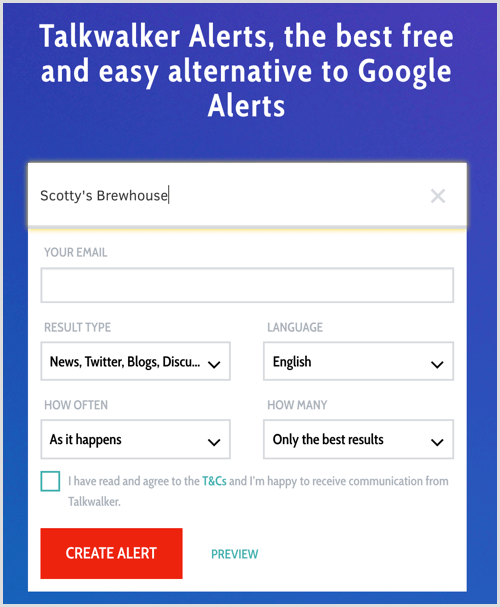 If your online presence is consistent with your reputation offline, great! If it's not, consider it an opportunity to build a solid presence as soon as possible.
#3: Craft a Social Media Policy to Guide Engagement That Supports Your Reputation Goals
The next step for building an A+ online presence is to have an effective social media policy in place. Social media policy refers to how a company and its employees interact online.
Here are a few key points to keep in mind when creating your policy:
Don't allow staff members to freely post whatever comes to mind, particularly if the content is associated with your business. One reason for that is to protect your reputation. The other reason is liability. To keep things simple, you could tell your employees to label all of their posts as "personal" or create a pre-approval process for content, if necessary.
Sensitive data should never be shared with the public, including financial, legal, and private client information.
A captivating online reputation is all about professionalism. This also applies to publishing content on social media.
Reserve the right to edit or delete potentially harmful content.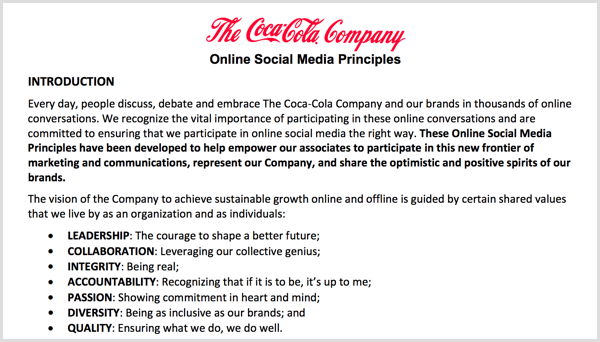 Is Web 3.0 on Your Radar?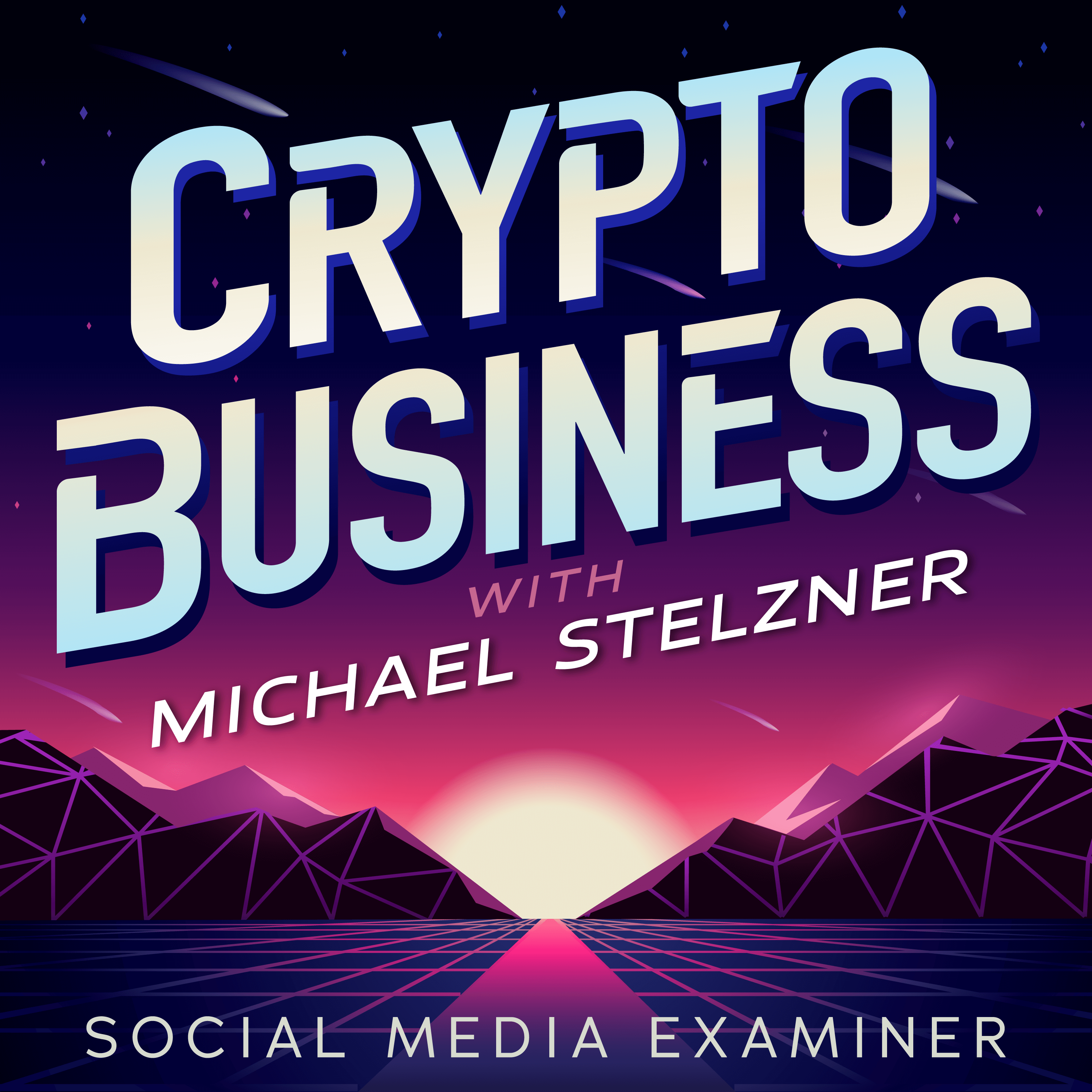 If not, it should be. This IS the new frontier for marketing AND business.
Tune into the Crypto Business podcast with Michael Stelzner to discover how to use Web 3.0 to grow your business in ways you never thought possible—without the confusing jargon. You'll learn about using NFTs, social tokens, decentralized autonomous organizations (DAOs), and more.
FOLLOW THE SHOW
#4: Design a Social Media Content Strategy to Promote Your Desired Reputation
A social media content strategy outlines the subjects and topics your business or brand wants to focus on, the use of keywords and media types (articles, video, podcasts), and who's responsible for content creation and implementation, which doesn't necessarily have to be the same person. Here are some key points for your social media content strategy.
Identify Your Social Media Goals
The first step in creating a strategy is to define your social media goals. Do you want to win more fans or followers? Increase sales in your ecommerce store? Raise awareness of your brand?
Decide Which Social Platforms Will Help You Reach Your Ideal Customer and Attain Your Goals
Social media represents one of the most important opportunities for digital marketing. To build a solid online reputation, you need to identify the platforms that are relevant for engaging your current and future clients.
To illustrate, if you're looking to prospect C-suite executives, you may want to focus on LinkedIn and Twitter rather than Pinterest and Snapchat. If you want to focus on lifestyle, design, and apps, Pinterest and Facebook may represent the most compelling options.
Consider Your Competitors' Social Presence and Social Platform Demographics When Integrating Social Platforms
If a direct competitor has a healthy, engaged presence on a specific social media platform, odds are that the platform is a fit for your business as well. Many tools are available to help you research your competitors on social media. As a starting point, Fanpage Karma ($14.90 per month) and Talkwalker (free version) are great tools to evaluate both your own and your competitors' social media presences.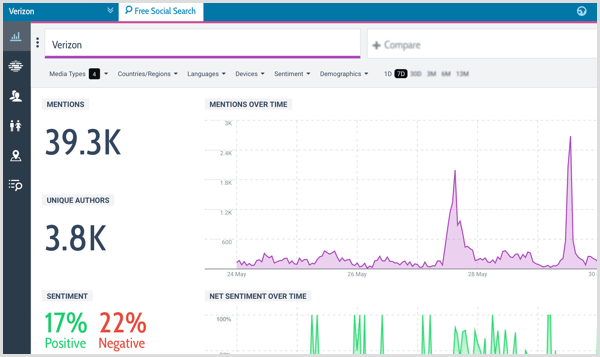 Additionally, there are a number of platform-specific tools that can help you gain demographic insights about your audience and competitors.
As an example, with Facebook's in-house reporting, you get access to post statistics and users' demographic data. You can also add certain pages to your watchlist to gain information on how well they perform. To access Facebook's Insights feature, navigate to your page and click the Insights tab in the Admin menu.

Instagram Insights requires you to create a business profile first. Then to access the reports, navigate to your profile page and click the graph icon in the top-right corner. Apart from insights on followers, you can see the performance of your posts, stories, and ads, as well as your profile in general.
For Twitter, use Twitter's own Analytics tool or Followerwonk (free version available). Twitter Analytics provides insights into how well your tweets have performed in the last 28 days including data on impressions, clicks, likes, and retweets. If you click on a particular tweet, you can access specific details about engagement.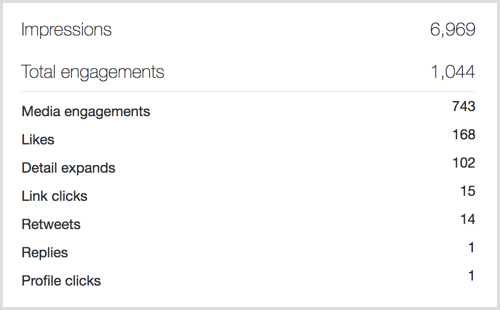 Followerwonk is a tool developed by Moz that gives you a full breakdown of your tweets and followers, too.
Compared to Facebook and Twitter, LinkedIn Analytics isn't as extensive, but it still offers some value. You can learn about the number of views and engagement of your long-form articles, as well as reader demographics.
With Pinterest's in-house analytics (available for business accounts), you get data on pin and board impressions, as well as performances and followers. Tailwind ($15 per month) is an all-in-one tool designed for both Pinterest and Instagram. It not only will identify the best time to publish new content, but also help you keep track of your competition, monitor conversations, and get insights into external content that was well-received by fans.
Research Content Ideas
To identify what content will resonate with your audience, you need to do some research. You can start by looking at what your competitors are doing. Keep in mind that you don't want to copy them. You're simply looking for inspiration for your own social channels.
To illustrate, you could set up a Twitter list of accounts you want to follow on the platform or subscribe to a list in your niche.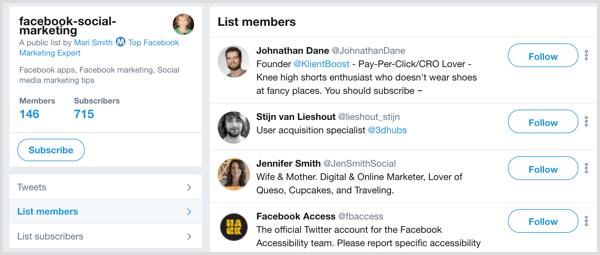 Establish a Content Publication Schedule and Assign Tasks
It's important to stay consistent and active on all of your profiles. Set up a social media content calendar to help your team keep track of what you're posting to different channels.
Respect Your Audience
Encourage your followers to engage with your content. Respond to questions and comments in a timely manner.
Monitor Results
The final step is to track key social media metrics. To make this process easier, set up a social media dashboard that includes the metrics that matter most to your business. A tool like Cyfe (free version available) makes it easy to add your social media channels to a custom dashboard.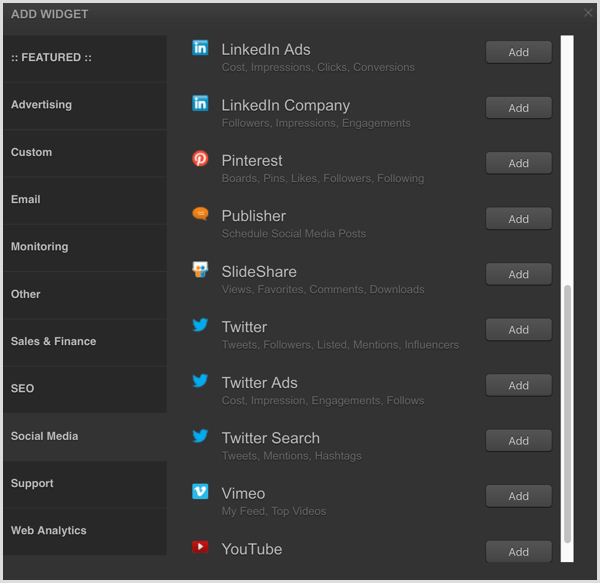 #5: Enhance Your Reputation With Blog Posts (Owned Media)
The key to success — articles that rank high on Google, generating additional traffic with high engagement — is to consistently publish content that provides value.
Thorough keyword research and high-quality content increase your chances to push undesirable content further down on the SERPs. Here are a few tips and tools to help you publish quality content that supports your reputation.
Use Relevant Keywords
Keyword research helps you learn the exact queries people type into search engines to find what they're looking for on the web. Include the right keywords in your content, and you're closer to staying top of mind with your target market. Google holds by far the biggest market share, so you can ignore Bing and other search engines.
With the free Google AdWords Keyword Planner, you get information on the monthly search volume of keywords, a list of suggested related keywords that users are searching for, and historical data. It also indicates whether people are more interested in a particular topic.