Managing Brand Reputation in the Social Media
Dissecting the Changes of Marketing: Traditional to Digital
The rise of global marketing has been engineered by the involvement of social media practices that have positively impacted businesses. The growth of brands has been as a result of increasing visibility and media attention offered through these social marketing channels that provide several metrics for channelising brand growth.
A brand's reputation is highly dependent on its perception and popularity within the common public; since everyone has access to social media these days, it has become one of the easiest ways to garner attention for branding companies.
The current day and age have been described as the "golden era of marketing" primarily because of the role of social media and its different platforms in transforming digital practices.
Also Read: How Brands Used Social Media to Deliver a Powerful Message?
Social media has taken the marketing world by storm since it provides companies with real-time data about their services without spending a lump sum on other tools and software. Moreover, companies can pitch sales without coming as too strong since social media is used by users and businesses alike.
Gauging interest online requires a deeper understanding of marketing proceedings and how a particular organisation fits into the advertising and promotional scheme of things—the critical aspect of garnering success with branding procedures online works around delivering products in an innovative manner.
Social media has led to changing of cultures and providing breakthroughs with out of box thinking that has been met with open arms. It's crucial to note that such nuanced and digital promotions weren't possible nearly ten years ago.
Earlier, the world as a whole was more inclined towards sticking with traditional norms of marketing. These included billboards, caricatures, printed media, magazines, glossy pages, newspapers, and broadcasting mediums like television and radios for promotions and campaigning.
The mechanisms above were highly successful since there weren't as many fluctuations as today in international markets with less complexity across corporations.
Also Read: Scope & Benefits of Social Media in Digital marketing
Today, with the influx of technologies and data being generated every second, it's humanly impossible to just stick to traditional marketing and advertising practices for ripping in leads and conversions.
Therefore, the need of the hour was felt in shifting marketing interactions online where both customers and agencies could work with each other and develop healthy, long-lasting relationships.
What does a Branding Company Mean, and How do they Fit in with Delivering Marketing Solutions?
What constitutes a branding company?
What is the need for efficient online marketing solutions?
The questions described above are bound to pop up when a tremendous shift in marketing practices takes place. The reason being since marketing is a facet that deals directly with consumers, they can see the changes and might feel confused as to how to look for their loved brands and their goods.
A plethora of brand management courses online teach young and aspiring learners about how social media channels are causing a revolution in the marketing and branding worlds.
These programs have been designed to widen students' perspectives about different online-based channels that help businesses cater to their consumers' needs and interests.
Also Read: What does one mean by branding, and how do brands get recognised?
However, it's vital to understand the branding term and how companies use this term for attracting wide attention from demographics.
A branding firm is defined as the act of giving a particular company a specific design or symbol for promoting their goods, services and products. Branding is a quintessential part of any company since it deals with making a memorable and ever-lasting impression on customers.
They are used for delivering robust marketing solutions since they provide a tabloid of information for distinguishing their brand from others and creating an audience that explicitly interacts with their content.
The brand needs to be an exact representation of what the company is all about and must focus on building loyalty and transparency with their clients.
There are several online marketing certification courses in India that offer holistic coverage over branding processes and their critical steps in developing effective campaigns that utilise social media practices.
A branding process is defined as the systematic approach used to create, communicate and strengthen a firm's branded goods, items and services. There are several elements to a braiding process that vary in accordance with the target audience, the customer's interaction and unique selling propositions.
Also Read: Online Brand Management Course By MICA
The need for the branding process can be understood from a variety of factors; moreover, unlike other approaches that a company constitutes, a branding one may not require a total revamp of steps and just allows managers to iron out procedures that they find valuable.
Branding and its processing fits into the market solutions through several factors; these include the following:-
Repositioning of a firm's long term goals with regards to competing with a new set of competitors. 
It is the merging of two different firms that deliver similar branded goods, services and products. 
While launching a new product by a firm
Changes made in branding strategy, procedures and other defined objectives 
The emergence of a new competitive advantage 
The addition of a loss of a high visibility market expert
The launching of a new service line such as clothing chain, mobile accessories etc. 
Reformative "commodification" of existing services 
It's interesting to know how social media fits into the branding world and the benefits it offers for delivering valued products, goods and services to consumers.
Also Read: Specialization in Brand and Marketing Communication from MICA
Building brand awareness using effective strategies that aim at long-term success requires a clear understanding of basic concepts that govern the world of marketing.
There are phases of branding that revolve around utilising social media paradigms for developing a robust and achievable digital marketing strategy.
Young and upcoming professionals need to get their concepts and their practical applications honed as per corporate levels by enrolling for credible online digital marketing courses available in Indian elite institutions.
The role of social media in spreading brand awareness and identity is extremely crucial for setting up successful marketing procedures.
Role of Social Media in Developing Measurable Brand Building Strategies
Social media is like a close sibling that deals with brand building perspectives. The presence of social media plays a vital role in setting up adequate measures to develop interactions and meaningful connections with the target audience online.
It's a new age way of bringing in more consumers to engage with branded items, goods and services for creating positive reviews about their end products.
Also Read: The Role of Social Media Marketing and its Future
The world of marketing is significantly influenced by a brand's reputation and its global perception. There's perhaps no better mechanism for PR relations and advertising for goods, services and products than leveraging social media for doing the same.
Social media is an excellent tool for auguring brands and their positive image since it allows organisations to connect with target audiences on a more interpersonal level.
All credit to the rise of social media for interacting with consumers on a real-time basis to let their voices be heard and for getting clarity over their needs wants, and concerns.
Social media has been a revolutionary tool in giving voice to the voiceless and offering opinions over brands through customer reviews, portals for feedback and other discussion forums.
These reviews are regularly surveyed by marketing and sales departments for understanding how their products are performing and the areas that they can improve on further for delivering better results.
The extent of exposure through social media is immense since it leads to an increase in organic traffic and leads to the development of trustworthy brands and more extensive conversion of leads.
Also Read: Marketing & Brand Management from MICA
With the brands, companies can bring in innovative, trendy and interactive methodologies for marketing their goods online and can see its results in real-time through likes, shares, comments and other means on these social media platforms.
The exponential growth of Instagram and Facebook have allowed marketing companies to advertise their services on these platforms on users timelines and also with their short story features such as "Reels" by Instagram.
Having a solid social media presence works in a company's favour and can lead to long term dividends in monetary and financial assets aspects. It leads to better company partnerships, reduces marketing costs immensely and also helps in improving sales for companies.
There are several social media campaigns that have thronged the markets today, and they are developed in a manner that automatically attracts targeted audience groups.
Today companies conduct unboxing, launching events, set up countdowns on social media networks for maximum viewership and create hype for their brands prior to the actual release of items.
Social media has been influential and successful in current digitised times since it offers live updates of marketing insights that consumers can view for making better purchasing decisions.
In case of a situation wherein a brand is dealing with specific issues, social media can act as a mediator for customers to provide real time problems that a company is facing, thereby leading to transparency and a whole new level of trust between both parties.
Social media also helps in rendering a humanistic appeal to brands since it allows companies to solve consumer problems, provides excellent overall customer service and sets up call-to-action by reinforcing deeper connections.
Also Read: PG Certificate Course in Managing Brands and Marketing
However, the rules for acing the social media aspect of marketing need to be understood prior to developing marketing strategies that lead to maximum results for organisations.
There are specific steps in brand management that optimise social media for helping both consumers and marketing agencies for coming up with advanced marketing practices.
The marketing analytics course in India can be used for getting resourceful intel regarding the various concepts, principles and terminologies that comprise social media marketing in the current day and age.
Social media leads to better consistency and delivery of messages across channels and helps in getting good reception from audiences.
There have been specific outstanding social media campaigns in the recent past that have changed the shape of creating a brand reputation.
Online Reputation Management: A Guide for Social Media Marketers
Wondering what people think about your business?
Interested in using social media to improve your online reputation?
In this article, you'll learn how to research, manage, and protect your brand's reputation with social media.
Online Reputation Management and How It Impacts Your Business
Your online reputation determines how others perceive your business when they search for or stumble upon it online. Consequently, online reputation management (ORM) proactively influences what information people will find.
For instance, various techniques and strategies can help you push damaging and harmful content further down the Google search engine results pages (SERPs) by ranking your own or third-party more desirable material above it. Why is this important? Because the top five listings in Google's search results receive about two-thirds of all clicks.
ORM is not only about managing content in search engines, though. It's also about managing negative business reviews and encouraging happy clients to contribute more positive feedback.
Did you know that according to BrightLocal, "85% of consumers trust online reviews as much as personal recommendations"? What's more, "49% of consumers need at least a four-star rating before they choose to use a business."

Considering these statistics, the importance of your online personal and professional reputation can't be understated. Here are the four distinct digital marketing channels involved in ORM, channels also referred to as the PESO Model.
Paid Media
Paid media includes all marketing efforts that require payment to feature your business on external websites and networks. This includes PPC advertising with Google AdWords, display ads on Facebook, and sponsored posts on industry/influencer blogs. Paid media extends your reach and drives traffic to your web properties by building new relationships with partners and customers.
Earned Media
Earned media describes the coverage of your business on external web entities for which you didn't pay. It requires you to stand out from your competition with great content, products, or services that users consider worth sharing, mentioning, reposting, and reviewing.
In the Social Media Marketing Society, you get access to 100+ deep-dive training workshops from the industry's leading experts—live and on-demand. Explore training on trending topics for all major platforms, plus sessions covering email marketing, design, and video creation. It truly is your one-stop-shop for marketing greatness.
JOIN THE SOCIETY TODAY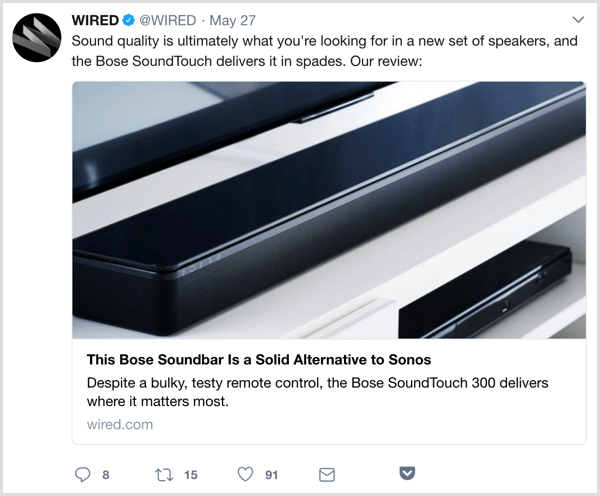 Social Media
Pages and profiles on social media are "an extension of your brand and create additional avenues for people to interact." When it comes to social properties, it's important to dedicate the resources to stay active on them by engaging in conversations and publishing fresh content regularly. As a general rule: not having a profile on a certain network is better than having an inactive one.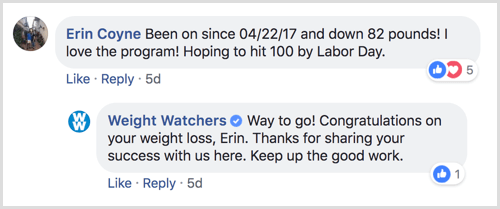 Owned Properties
Your business websites and blogs are properties owned by you, which means you have full control over them. Of course, the more properties you own, the higher your chances to effectively build your digital presence. At the same time, you don't want to cause confusion by establishing properties that can't be distinguished from one another.
Here's how to use these digital marketing channels to start building and managing a healthy online reputation for your business.
#1: Decide What You Want Your Online Reputation to Be
With ORM, the first step is to decide what you want your online reputation to be. Do you want to be perceived as an industry authority? To adopt the position as the market leader? Or be known for your responsiveness and excellent customer service?
#2: Assess Your Current Online Reputation
You can begin by determining what your actual reputation is. Ask friends, family, clients, business partners, and stakeholders what comes to mind when they hear your business's name. What do people already think about you? Does your digital presence match your reputation in your offline network? Listed below are five tools that will help you research and evaluate your digital reputation.
The Brand Grader
The Brand Grader (from Mention) provides an understanding of your brand's online presence for free. It will identify the most influential blogs and news websites that have published content featuring your business in the last 30 days and also show recent mentions from social sources. The tool also gives you a score that helps you identify strengths and weaknesses of your business's reputation.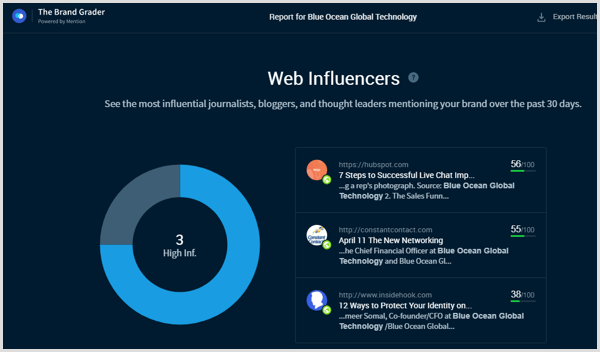 Go Fish Digital's Complaint Box
Go Fish Digital has designed a free tool that lets you browse more than 40 different complaint websites at once and provides you with a list of negative reviews. Although there's no guarantee of completeness, using the complaint box is a convenient way to get first impressions of any negative reviews or comments you've received online.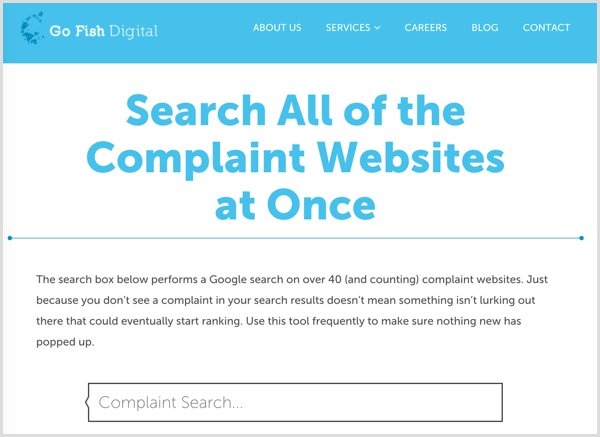 Mention
Mention is a platform that scans more than 1 billion sources from social media networks and forums to blogs and many other web properties. You can use it to track your brand, competitors, and customers by using different search criteria. Mention has plans starting at $25/$29 per month, but you can evaluate the tool during a free 14-day trial period.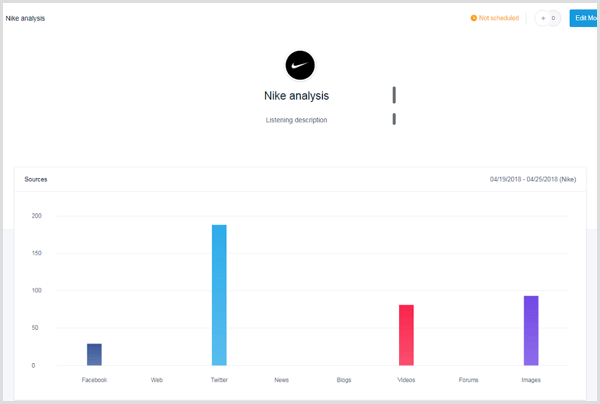 Google Alerts
With the help of Google Alerts, you can keep track of new content published about your business. In addition, you can monitor industry news and follow your competitors. This helps you identify new guest blogging and commenting opportunities.
To set up an alert, all you need to do is search for a certain keyword and decide how often you want to receive notifications about new content via email. You can also define content sources such as news websites, blogs, or videos, and choose a preferred language and geographic region.
What's great about Google Alerts is that it's free and includes all content currently indexed in Google, so you won't miss out on anything.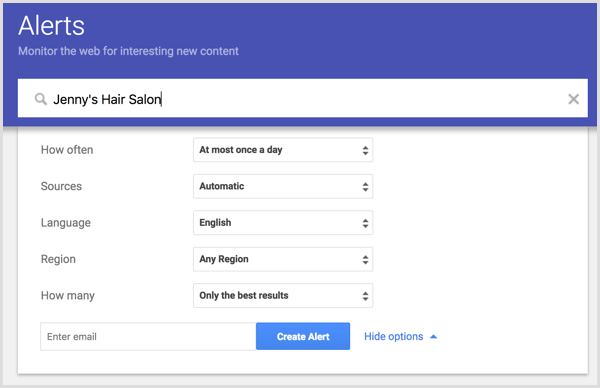 Talkwalker Alerts
Talkwalker Alerts calls itself a "Google Alerts alternative." With the free help of Talkwalker, you can monitor everything online regarding your brand and track your competitors' activities, recent events, and so on.
To set up an alert, you need to define a keyword; enter your email address; choose your target language, number, and types of results; and select how often you want to receive notifications (daily or weekly).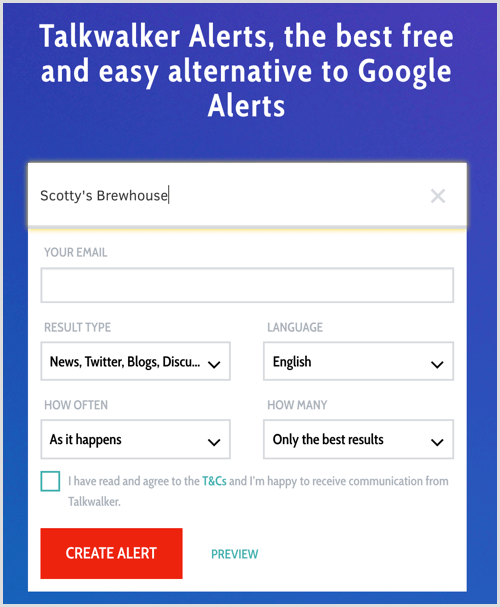 If your online presence is consistent with your reputation offline, great! If it's not, consider it an opportunity to build a solid presence as soon as possible.